We know where your active participants are in the meeting room
The AI Autopilot AT200 makes meetings more engaging and assures a high quality video for almost all meeting platforms.
The AT200 comes with an HDMI, SDI and USB 2.0 video output. The AT200 can be directly used on a computer, laptop or conference room system.
The integrated AI director switches between full view mode, close up mode and group frame mode based on the amount of participants in the room.
With the 8 integrated beam forming microphones the camera knows exactly which participant is speaking following a close up. When zooming in on one specific participant while there are more participants in the room, the AT200 outputs a picture-in-picture with the whole group visible.
The AT200 has a wide-angle tracking camera which tracks participants all the time regardless of the angle of the PTZ camera.

The AT200 can switch between the 4K full view camera, a seperate EPTZ image from the 4K full view camera and the PTZ framing camera. This enhances the meeting experience with a dynamic video picture.
With the supplied camera CMS software the camera can be controlled, managed and maintained offering the possibility of remote support.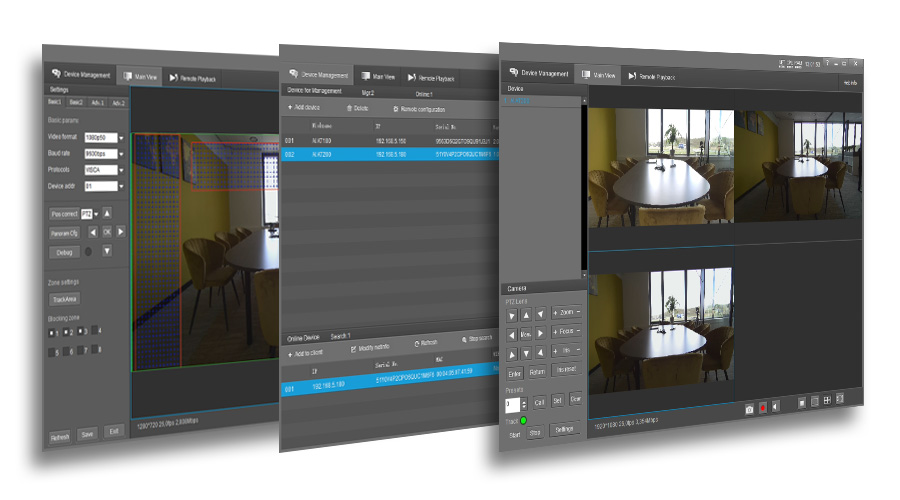 Driver Free / Plug & Play!

The AT200 doesn't require installation of drivers

Platform independent

Directly usable on any virtual meeting platform like
Microsoft Teams, Zoom, WebEx, Google Meet, Skype, GoToMeeting

Live stream on Facebook Live or YouTube Live

The AT200 supports RTMP/RTSP live streaming, suitable for almost all streaming platforms like Youtube, Facebook or Twitch!

Management software for central management and remote support.

The management software supports all Digichain cameras. Manage, control and preview in one central place and allows for remote support.
The AT200 offers multiple connectivity options for easy integration within any system. You can use USB for direct connection with a computer or you can integrate it with a room system. The USB2.0 connection is driver free / UVC.
Other connection options are HDMI, SDI and ethernet.

The reference audio input enables the AT200 to filter audio coming from a speaker phone or room system.
To embed audio use the 3.5mm jack input.

The AT200 supports VISCA control.